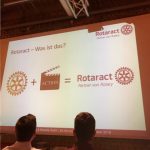 Last week's "Rotary meets Rotaract" event was a great success. A lot of members of the Rotarian family attented the event and could get to know each other and establish new contacts.
The evening started with some drinks and small talk in the great location "Residenzcafe". Afterwards the event's organizers hold a speech and introduced "Rotaract". One of the highlights of the evening was the surprise the organizers had prepared for us: A great performance of Kevin Conners and his colleauges from the Bayrische Staatsoper.
All in all it was a great event that fostered the relationship between Rotary and Rotaract and will certainly be followed by new cooperations and projects.