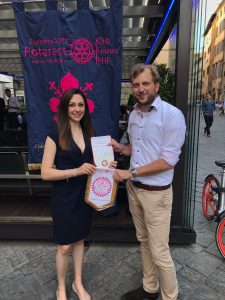 Last weekend, RAC Munich-International had the honor to visit the oldest Rotaract Club in our 50 years of Rotaract history: The Club Firence PHF in Florence, Italy http://www.rotaractfirenze.org/il-club/.

It was a pleasure to exchange our ideas, experiences, and upcoming projects with Elena Bianchini, the current president of @RAC Firence PHF, and the whole club.
We are looking forward to having RAC Firence PHF as a guest in our club in Munich in October this year and give them a taste of our beautiful city.
@Guido Fanfani: Many thanks for showing us around Florence and making the trip to a fantastic experience!